Greatest Strength -- Confidence. Katrina is still in college but already has her next two jobs planned out!
Weakest Weakness -- Traumatic experience at a young age left her unable to appreciate the cinematic stage presence of Radiohead
Feelings about the Olive Garden -- "I think it's really good. People act all superior, but come on. It's just pasta."
Snapshot: "I run a radio show. It was gonna be about love, cause that's universal, right? But love is boring. So it's about sex."
Creative Challenge -- "Consider the Olive Garden experience - a menu, a waiter, a check. Design, from the ground up, a fundamentally improved experience."
Result: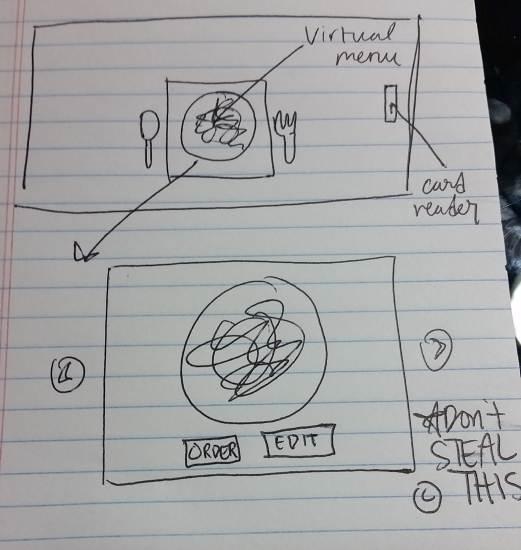 (Katrina's Explanation)
Okay, so, the table becomes your menu - it's a touchscreen, and you see photos of the food you can order. You swipe to find different entrees, and once you choose one, you can edit it to your liking. The food is brought to your table automatically by underground pipes. [Vino's Note: ???]
There's also a card reader in the table so you can pay right there.
--
Katrina seems to have no end of talents - software architecture, project managment, and radio show host are just a few of her many hats. Someone so clearly skilled deserved a special creative challenge, and I really think she knocked it out of the park! I hope Darden is reading this blog and taking notes, but since the Italian Sausage is still on the menu, probably not.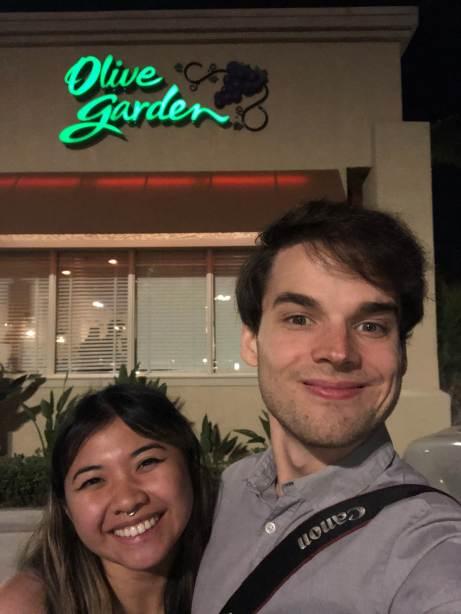 Vino's Vegan Victual:
10/50
Katrina's Kuisine:
Two Cows
40 dates to go! Thanks for dining with me, Katrina. You're super nice!