Greatest Strength -- Finely-honed nose for news enabled her to get in on the ground floor on what will assuredly be the pasta blog/reality tv dating game show hybrid of the season.
Weakest Weakness -- Fierce independent streak which involved a week-long phase of referring to herself as "Xoie"
Feelings about the Olive Garden -- "I love it! When I lived in Orange County there were not that many unique or interesting places to eat, so I fully embraced the chain restaurant lifestyle."
Snapshot: As usual, I explained the concept of the date's Creative Challenge, and its purpose, to Zoie. When I completed my summary, she smiled, picked up her pen, and brightly chirped "Wow! I hate this!"
Creative Challenge -- "Write a haiku that contains the word 'breadsticks'."
Result: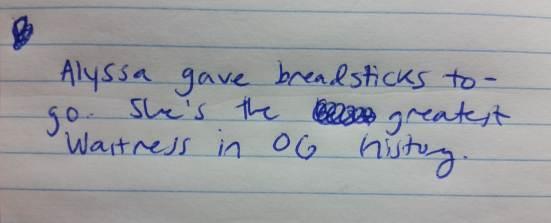 (Transcript)
Alyssa gave breadsticks to-
go. She's the greatest
waitress in OG history.
--
Zoie works for Los Angeles magazine and, since she was "assigned" to me as if I were a natural disaster, must have a boss with a sense of humor. I usually play the interviewer role in my dates, so it was a weird change of pace to be asked so many pointed questions about Olive Garden that went beyond making polite conversation. It gave me a new sense of empathy for the women on the other end of the salad bowl, that's for sure.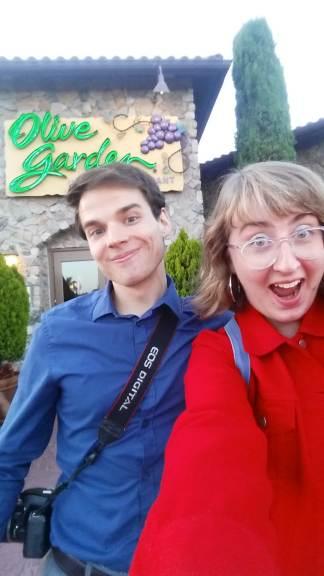 Vino's Vegan Victual:
6/50
Zoie's Zupper:
Hoplite
44 dates to go! Thanks for dining with me, Zoie - I know you'll get that big scoop one day!