Greatest Strength -- Fearless nature led to perhaps the greatest heist in Olive Garden history (see Snapshot below)
Weakest Weakness -- Easily distracted; finished maybe 1/10th of the stories she started
Feelings about the Olive Garden -- "I'm ambivalent. Oh. Once I came here with my mom, and her friend, and her friend's daughter. Anyway. We had a waiter named Quest. I'll never forget that." (editorial note: I have no idea if this was a joke, or a reference, or something of that nature -- I leave the interpretation to the viewer)
Snapshot: Throughout the date, Lu continually flirts with our waiter, each time getting him to bring back more and more shrimp (which she barely touches). Watching her work her craft enthralls me. There's something deeply primitive about the way the waiter returns again and again, overflowing her salty ocean shrine.
By the time we leave Olive Garden (half an hour after closing time), Lu has bilked Olive Garden out of 23 shrimp and a colorful cloth napkin, which she repurposed as a trendy scarf that really tied her whole outfit together.
Creative Challenge -- "Write a limerick than contains the word 'camera'."
Result: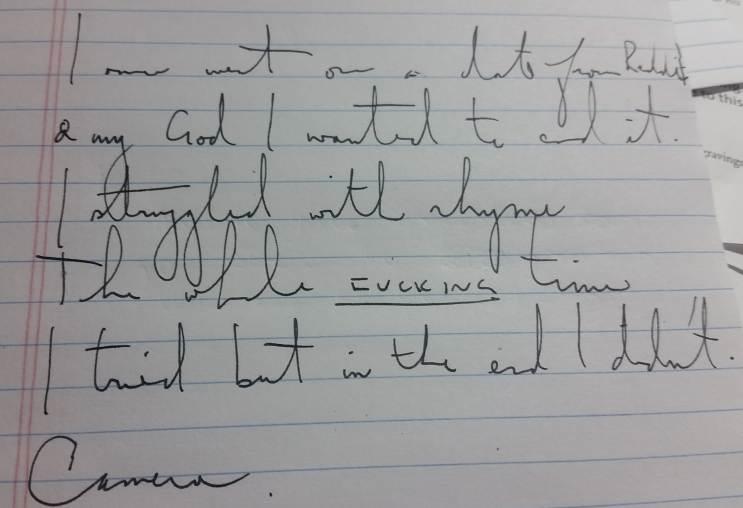 (Transcript)

I once went on a date from Reddit
& my God I wanted to end it.
I struggled with rhyme
The whole FUCKING time
I tried but in the end I didn't.
Camera.

--
Lu was a gamble that paid off, and not just in ill-gotten toppings. She found me through a post I made on Reddit.com, an internet message board famous for its campaign to make Bernie Sanders so popular that Hilary Clinton would lose the race for the presidency (WE DID IT, REDDIT!).
As you may expect, the clientelle of this site is all over the place. That was my original point. So a date with a redditor can, potentially, be just about anywhere on the scale. This one was right up there at the top. Lu has the "demure exterior, sharp-tongued interior" thing down pat. One minute she's giggling coquettishly, the next she's tearing your heart out and mocking your height.
Not that I'm even sensitive about that. I don't know how much more clear I have to be. I must have said so, like, five times.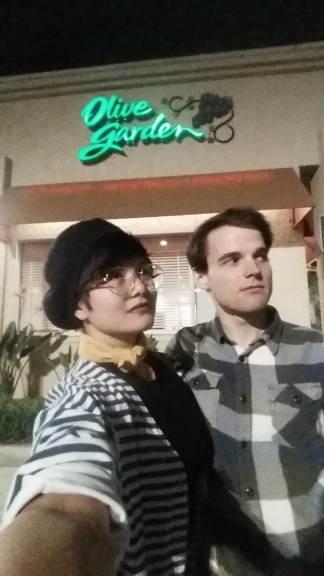 Vino's Vegan Victual:
7/50
Lu's Larceny:
The Ocean Called!!
43 dates to go! Thanks for dining with me, Lu -- and it's not like you're that tall, either, y'know.