Greatest Strength -- Crafting D&D characters that have a tragic backstory reminiscent of a Game of Thrones antihero, but different enough to not be sued by George R.R. Martin (yet)
Weakest Weakness -- Brought shame upon our table when she misheard the options of 'soup or salad' as "Super Salad" and tried to order it
Feelings about the Olive Garden -- "I love the breadsticks. I was just talking about them with my Uber driver, we bonded over it."
Snapshot: Feeling a little constricted by my creative challenge format, I asked Crystal if she had any other creative talents she could comfortably display in a booth in an Olive Garden. She suggested music, tempting me with this: "My singing is like...really, really, really, really shitty Amy Winehouse."
"Ah..." I replied. "Well... for now, what's your second-favorite cartoon?"
Creative Challenge -- "Draw Mojo Jojo from memory"
Result: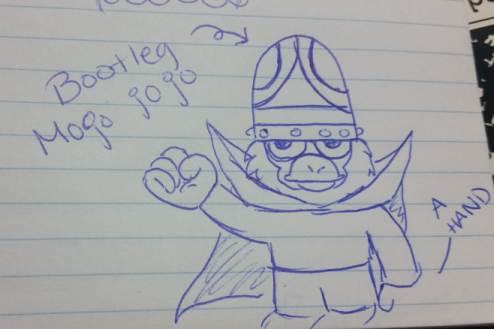 (Transcript)
Bootleg
Mojo jojo
A HAND
--
Equally at home in an obscure anime cosplay or sharpening some corporate tool in her work as a consultant, Crystal is the sort of renaissance millenial that is single-handedly ruining our country, according to Parade magazine. She's the rare kind of person who is considerate in a way that feels genuine without being obsequious. Anyone can read a guy's pasta blog (though many, for some reason, do not), but few actually go to the lengths that Crystal did in her helpful and positive feedback.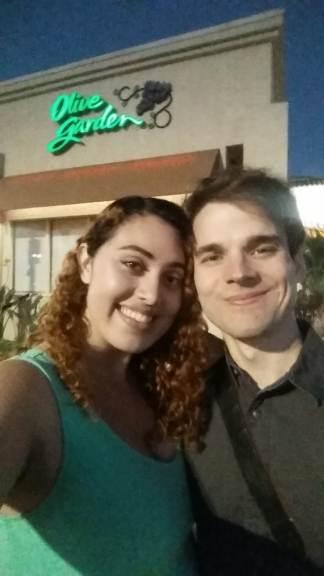 Vino's Vegan Victual:
5/50
Crystal's Concoction:
Gravity Well
45 dates to go! Thanks for dining with me, Crystal! I hope you were able to find your way home!